We know you will love our Foot Care Products and services. Check below to read dozens of testimonials from our dedicated customers!
Meet some of our clients…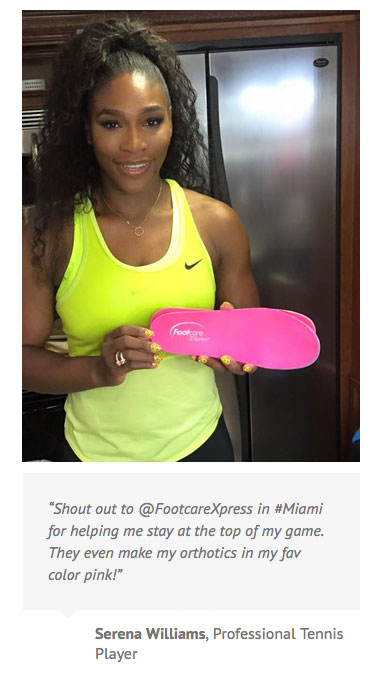 Major League and Minor League Baseball: Minnesota Twins, New York Mets, St. Louis Cardinals, Washington Nationals, Florida Marlins, Toronto Blue Jays, Boston RedSox, and Pittsburgh Pirates
National Football League: Miami Dolphins, New England Patriots, Minnesota Vikings, Kansas City Chiefs, Detroit Lions, Green Bay Packers, New York Giants, Carolina Panthers, Indianapolis Colts and Buffalo Bills
National Basketball Association: New York Knicks, Memphis Grizzlies, Indiana Pacers, Orlando Magic, Houston Rockets, Golden State Warriors, Portland Trailblazers, New Orleans Hornets, Oklahoma City Thunder, Charlotte Bobcats, Sacramento Kings, Los Angeles Lakers New Jersey Nets, Minnesota Timberwolves, Dallas Mavericks, Philadelphia 76'rs as well as worked with the Boston Celtics through their team Physicians.
National Hockey League: Florida Panthers, New York Rangers, New York Islanders, Washington Capitals, Tampa Bay Lightning, Minnesota Wild and the Boston Bruins
Minor League Hockey Teams: Florida Everblades, Hartford Wolfpack
Colleges & Universities: University of Florida, University of Central Florida, Florida Gulf Coast University, St. Thomas University, University of Georgia, Auburn University, University of Syracuse, University of Mississippi, Mississippi State University, University of South Carolina, Louisiana State University, St. Johns University, Michigan State University, Florida Atlantic University, University of Akron, University of Rochester, Barry University, University of South Florida,Nova Southeastern University and University of Miami through their medical staff.
Call Now for the very best in foot care and custom foot orthotics 1-877-OUR-FEET
"As an elite athlete, it is critical that I try to always perform at my very best. Reducing my chance for injury and being as efficient as possible is always my ultimate goal. The custom foot orthotics from Footcare Express have helped me greatly in this regard. Thanks so much for all your help."
"Shout to my man Jarret @FootcareXpress for the new Orthotics."
"During the 2006 season I injured my right foot. After visiting with the professionals at Footcare Express they decided that orthotics would help to alleviate the pain I was experiencing. They were right. The pain gradually went away and the orthotics also helped with my knees and lower back as well."
"In the NFL, I have to be as efficient as possible. Being able to perform at my best is crucial. Thanks to Footcare Express for helping me maintain that high performance level"
"I am very happy with Footcare Express, they are a very important part of our medical team. Their quality and service are simply the best. I highly recommend them to anyone in need of quality foot care."
"It is important that my patients receive the very highest in quality care. I have been very pleased with the positive outcomes Footcare Express products and services provided for my patients. Thanks to the practitioners at Footcare Express for helping my patients walk better."
"To Footcare Express…Thanks for getting me back up to speed so fast"
"Being balanced and comfortable on and off the ice allows me to perform my best and prevent injuries. The foot orthotics from Footcare Express have worked for me."
"To Footcare Express…Without your support, I couldn't be where I am today."
"When you are a professional athlete, you depend on your ability to be at the top of your game. When there is an obstacle, you must overcome it. That is exactly what Footcare Express has done for me."
"I just wanted to thank you for your continued help and support in caring for our athletes. The custom orthotics from Foot Care Express have been very helpful for our guys here with the Florida Marlins. The process of evaluation and computer scan measurement is thorough and efficient. We have had players report complete resolution of chronic low back pain after initiating the use of your orthotics. Others have noted significant decrease in discomfort from such injuries as plantar fasciitis and patellar tendonitis. Ultimately, using your products has helped us prevent injuries and keep our players on the field. And at the end of the day that is what our jobs are all about. Thanks again to you and your staff."
"Using the orthotics has alleviated a lot of the pain I was experiencing in my knee and lower back. I gained a whole new respect for orthotics and the benefits they provide to ones general health. The staff at Footcare Express was extremely knowledgeable and very thorough with their explanations to any questions I had."
"Footcare Express has been very helpful when we have needed expert consultation on designing the most appropriate custom foot orthotics for our athletes. I have been pleased with their quick-turnaround, custom products & professionalism."
"I highly recommend Footcare Express. They put in a lot of time and effort to make sure the custom orthotics fit the needs of all of our athletes. Their product is very durable and long lasting. Jarett provides us with great customer service and is always available for a consultation on our tough cases."
"I have used Footcare Xpress for the last three seasons with the Memphis Grizzlies. They are an easy and cost effective way to have all of your athletes in quality orthotics. They are durable and the players respond well to them. I would not use any other company to make orthotics."
"It is important for me to able to communicate with a custom foot orthotic laboratory that can understand my patient needs and be able to provide the type of devices that can deliver positive clinical outcomes. I have been impressed with Footcare Express's quality products and excellent customer service"
"After a very successful professional Track & Field career, 22 years in the United States Army including a recent one year tour in Iraq, the pain had only just begun. However, the customer service, resources and expert analysis have already resolved several issues I've been dealing with for many years. The orthotics and rehab techniques have been a God send. Footcare Express is the absolute authority on foot care."
"We have used Footcare Express for a number of years to fabricate custom orthotics for our student-athletes. I have found their products to be excellent as well as their customer service. I would highly recommend Footcare Express."
"Making sure my athletes perform their very best and stay as injury free a possible are my top priorities. I have been impressed with the high quality of professional service and custom foot orthotic devices that Footcare Express delivers."
"I have enjoyed working with Jarett and Footcare Express for all my orthotic needs. They offer an exceptional product, but more importantly stand behind the quality of their orthotics and strive to exceed my expectations."
"In sport performance, it is vital that you address the mobility and stability needs of the foot and ankle. Footcare Express provides a thorough assessment of the functional needs of the foot and ankle complex in order to provide you with the appropriate orthotic for optimal movement in sport. It has been a pleasure to work with the entire Footcare Express team."
"Footcare Xpress' professionalism is unmatched. Over the past several years, using Footcare Xpress for the orthotic needs of our players and staff, has become an stream-lined process due to their staff's attention to detail and follow through."
"I just want to say thanks for all your assistance in helping me fit my players with custom orthotics. The process is very user friendly, and the customer service has been great every time. The players who have used Footcare Express orthotics all said they are very comfortable, and they fit great in their hockey skates! To me, getting a player's approval is one true sign of a great product."
"Footcare Express has provided us with the best all around service of custom orthotics from the moment the mold is made throughout the end of the playing season."
"Footcare Express has provided excellent service. Their on-site lab and attention to detail have served my patients well."
Visit our Store
Now you know where the PROs go!
Improve your health and performance visit our online store and order your custom foot orthotics today!
Visit our Store